I entered the Challenge Quilt section at this year's Redland's Quilt Extravaganza. The theme was Climate Control. I was successful gaining second prize in that section.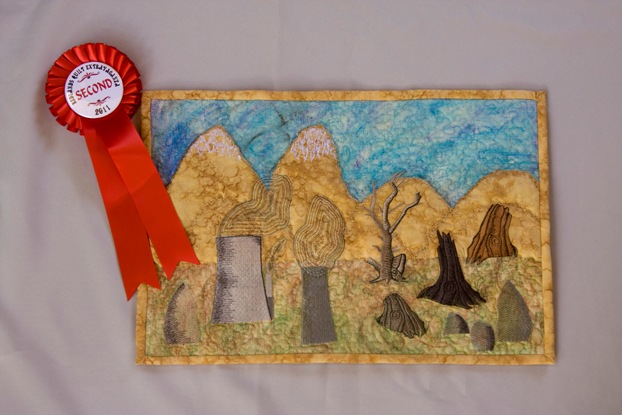 My new challenges are the Free Standing Lace designs. These are attractive butterflies used on a food net.
I have started to used these attractive designs on towel sets. They will also be used in my new cloth book projects.
Wall Hangings. I enjoy making up themed hangings for around my home and as gifts for family and friends. I envision a themed project, and then develop it into the full hanging. Kiddies love to follow the pathways and discover little friends along the way. They make great gifts for the young, and the young at heart. Our sewing group has been making Linus Quilts for our local hospitals. Visit Here.
These hangings started as cream and featured backgrounds. First, they were dyed and hand painted. The machine embroidery happened by magic, and then I stipple quilted and bordered the hangings to get the finished story. Often I need to personalise the story line by using my own drawings and then digitise them. This way my own artwork complements the storyline. Clipart is from my Categories Panel. You can find these designs in, Busy Bees, LeBug House, Leap Frogs, Snails and Mrs Wormy.
Casserole Carriers. These feature the Blue Symphony Designs. They decorate the humble casserole carrier very nicely. Treasure Hunt.
Projects. Quilts using the LeBug House and Navidad series.
Sewing Girls: Redwork on silk. Knitting Girls Quilt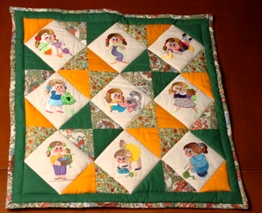 Christmas Themes. Bright Ornaments Delicate Christmas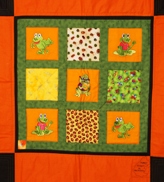 Copyright © 2010 Gumnut Embroideries.